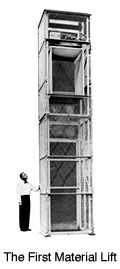 Essex Rise Corporation was founded in 1946 as a Materials Handling Equipment dealer/representative involved in the sale and installation of cranes and conveying equipment. Territories serviced were the New York metropolitan area and the Northeast and Mid-Atlantic States. Some light manufacturing of custom conveying equipment was also part of the business for equipment not commercially available at the time.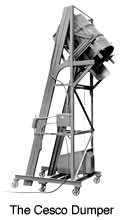 One of the products represented at the time was "Cesco" Dumpers out of Los Angeles, California. In 1952, Essex Rise purchased the manufacturing rights of "Cesco" and moved its manufacturing facility to Newark, NJ. At about the same time, the manufacture of small hydraulic lifts began for use in retail stores, warehousing and manufacturing plants on the east coast. In the early1960's our first Material Lift was manufactured for high lift applications based on a winding drum and cable operation.
Since those early days, the manufacture of Dumpers and Material Lifts had become an ever increasingly a bigger portion of the business and required that representing other manufacturers be phased out. Essex Rise has relocated twice since the Newark location, both times expanding into larger production facilities.
New products have been introduced over the years like Inverters for P/M users and Post Lifts for the fine powder and pharmaceutical industry. To date, over 8,000 units have been provided worldwide. We have the engineering expertise and staff to provide custom designed solutions from stand-alone equipment to large material handling systems for all industries.